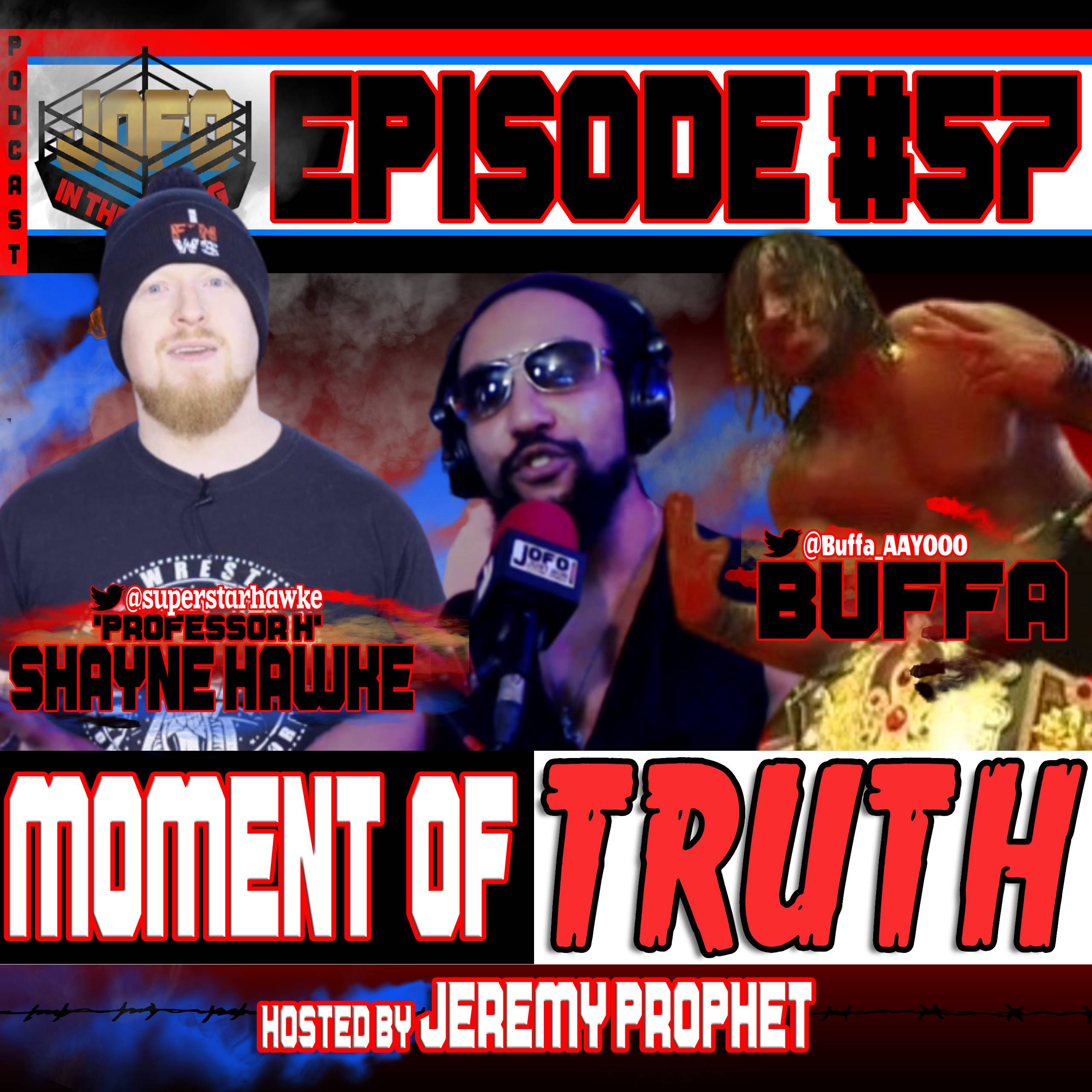 WE ARE GIVING YOU A DOUBLE FEATURE ON THIS WEEKS EPISODE WITH TWO EPISODES OF "moment of truth" hosted by THE HARBINGER OF TRUTH , JEREMY PROPHET!
FIRST WE HAVE A LONGTIME FRIEND IN THE WRESTLING WORLD AND I.W.S IN MONTREAL..
Shayne and Jeremy Talk about  shanes roles at IWS, what are the essential skills that future wrestlers need to have, poor  Scouting in the the big Companies or Not enough Social media Presence from the Talent
SHayne Hawke Social Media
INSTAGRAM - https://www.instagram.com/superstarhawke/
TWITTER - https://twitter.com/superstarhawke 
IWS YOUTUBE - https://www.youtube.com/channel/UC3JuBa66m8AhOcZMo-cC-Kw
Second episode we have 
returning back for his second time is the NEW IBEW WORLD CHAMPION 
BUFFA & The BoomBox 
We talk about what it was like to Wrestle infront of fans again, 
How it fdeels being champion in a new promotion
How we should watch out for China and its talent, 
Did the ACCLAIMED STEAL THE BOOMBOX GIMMICK ?
AND A FEW MORE GREAT STORIES YOU DON'T WANT TO MISS! 
Buffa's Social Media 
Follow Him Everywhere
Twitter 
https://twitter.com/Buffa_AAYOOO
MKW Wrestling
https://twitter.com/MKWwrestling
Instagram
https://www.instagram.com/buffa_aayooo/?hl=en
Youtube Channel
https://www.youtube.com/channel/UCyaGJrrSOPrvID3KdZ5jXcg
Facebook
https://www.facebook.com/Buffa-AAYOOO-Da-Boombox-426419874773097
Facebook Page
https://www.facebook.com/dahouseparty1983
🚨HELP US HIT 1000 SUBSCRIBERS! 🚨  Here on YouTube Subscribe to our Channel: https://bit.ly/3am91ia
- Subscribe to Our podcast on any platform:  https://linktr.ee/Jofointhering
 🚨-Get Some JOFO ITR t-shirts & merch: https://jofointhering.store/
 🚨-Email us: jofointhering@gmail.com 
 🚨-Follow us on Instagram: https://www.instagram.com/jofointhering
 🚨-Like us on Facebook: https://www.facebook.com/jofointhering 
 🚨-Follow us on Twitter: https://twitter.com/jofointhering 
🚨Donate To The Team Leave a tip - https://streamelements.com/jofopodcast/tip
🚨 Follow us on TIK TOK: https://vm.tiktok.com/ZMe5S9S9f/
Audio Versions - FOLLOW US
🚨 Google Podcast https://podcasts.google.com/feed/aHR0cHM6Ly9mZWVkLnBvZGJlYW4uY29tL2pvZm9pbnRoZXJpbmcvZmVlZC54bWw?ep=14
🚨Spotify  https://open.spotify.com/show/5HnjfXkVKceDsP5LkY9bJV?si=LlkKRuEqTr6f29OYv_ryAQ&utm_source=copy-link&nd=1
 🚨I heart Radio https://www.iheart.com/podcast/269-jofo-in-the-ring-podcast-76015018/?embed=true
🚨Podbean https://jofointhering.podbean.com/
🚨I TUNES/ APPLE PODCASTS https://podcasts.apple.com/us/podcast/jofo-in-the-ring-podcast/id1562978204
------------------------------------------------------------------------------------------------------------- 
- WATCH - LISTEN -  DOWNLOAD - 
YOUTUBE -SPOTIFY -APPLE PODCASTS